Maryse leduc: architect, designer
A pioneer in ecological home design, a leader in resort home design in Quebec, a winner of many prestigious awards, a renowned speaker, a respected teacher: Maryse Leduc's various talents and abilities have allowed her to play many roles. Over the years, she has built a solid reputation among her peers and clients. To get to know her better, her approach, her achievements and her team, the following is a portrait of Maryse Leduc.
Maryse Leduc's career path
From music to visual arts, through dance and writing, Maryse Leduc's career has been punctuated by experiences as varied as they have been successful. Maryse Leduc was destined for several promising careers, but she ultimately decided to devote herself to her passion for architecture, and more specifically for homes.
Maryse Leduc begins her university studies in 1982 and obtains her bachelor's degree in architecture from the Université de Montréal. She is then awarded the Medal of Excellence from the Royal Architectural Institute of Canada (RAIC). A valedictorian, she is awarded a scholarship that allows her to travel to Europe to study contemporary housing and to complete internships in major architectural firms.
Her travels are an enlightening introduction to ecological architecture and the trends of Europe, Asia and the Middle East. She is interested in several disciplines that will become an integral part of her approach: building biology, geobiology, Feng Shui, solar-passive architecture, and green architecture. Her great expertise, combined with her personal values based on a healthy lifestyle, make her a true pioneer of ecological architecture in Quebec.
From 1980 to 1989, she works for the architectural firm Cardinal Hardy. In 1990, she undertakes a master's degree in architectural history and theory at McGill University, and then pursues doctoral studies in housing design at the Université de Montréal.
In the meantime, she pursues several activities while raising her three children. She gives numerous conferences and workshops, presides over various associations, is a member of juries for competitions, all while preparing a business plan to establish her own company.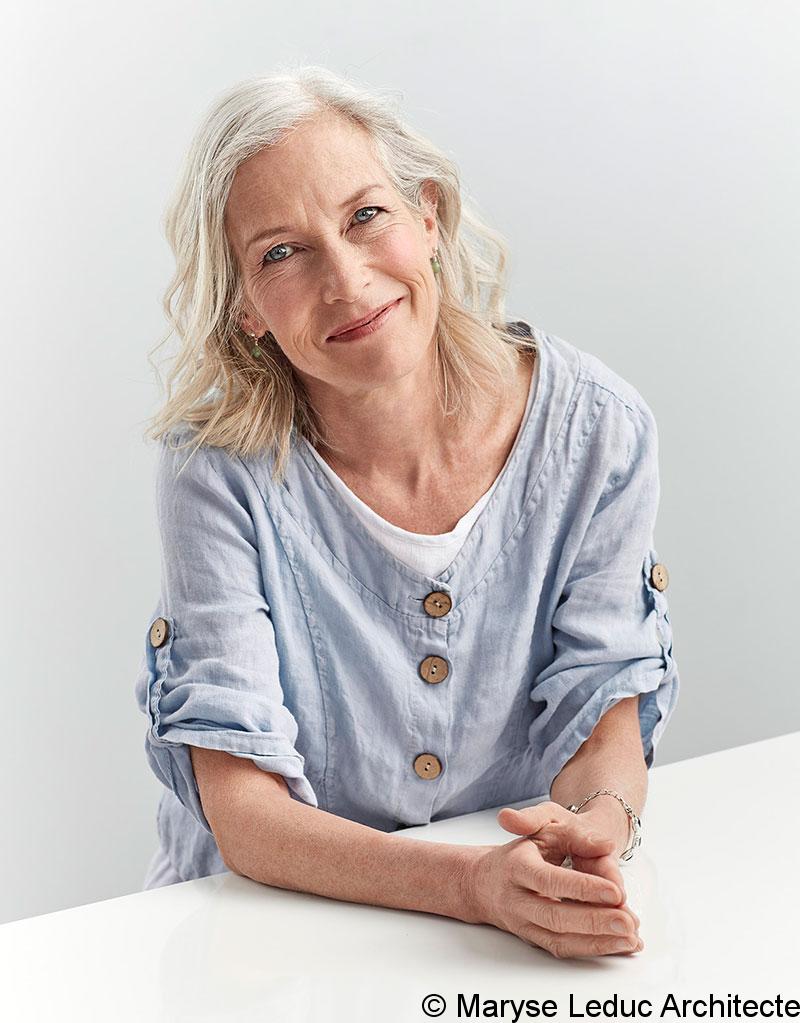 The businesswoman
Maryse Leduc launches her own architectural firm in 1989.
In 1992, the Canada Mortgage and Housing Corporation (CMHC) Award of Excellence crowns one of her projects: the Michaël House, a reception center for the disabled. This achievement not only allows her to put her knowledge in housing ecology to good use, but also to make a name for herself in the field. Since then, the architect has completed more than a thousand custom projects, using a variety of
techniques: straw bales, corded wood, round wood, post and beam, insulated formwork (concrete), clerestory, prefabricated walls injected with cellulose, etc.
Maryse Leduc is happy to share her knowledge and passion
for houses. She has written in specialized magazines such as Continuité, La maison du 21e siècle, and Mon chalet. She has been featured on the front page of the "Mon toit" (My Roof) section of La Presse and has appeared on several television and radio programs. She has taught architecture
at the university and cégep levels, participated in major conferences and held several booths
at the National Home Show and
at the Salon Chalets et Maisons de Campagne, as well as the SIDIM (Montreal International Interior Design Salon).university and CEGEP, participated in major conferences
After several years of working on "custom" architecture
and in response to client demand, Maryse Leduc created her own collection of house plans, better known as Maison Vive®. This brand responds to a growing demand for turnkey service and simple, authentic and friendly country homes.
To meet the needs of customers looking for a one-stop shop from design to completion, she adds project management expertise to her range of specialized residential services and offers her services as a general contractor. She can thus exercise
strict quality control, offer excellent customer service and build homes that are as beautiful as they are original.
Over the years, she has built up a solid network of experts in all areas of construction, mainly in the Eastern Townships, the Laurentians, Montérégie, Québec, Charlevoix and Bas-Saint-Laurent regions.
From 2005 to 2009
Maryse Leduc joins forces with businessman Michel Cadrin, owner of the Pohénégamook Santé Plein
Air health and recreation center. Together, they founded Pohénégamook sur le Lac, a magnificent domain where residents live in nature, following an integrated architectural concept. The enchanting site is located on the shore of
Lake Pohénégamook, two hours from Quebec City, and includes several houses and condominiums. With this real estate project, Maryse Leduc envisioned the creation of an ecovillage – that is, a living environment based on respect for nature and individuals. The whole blends into an environment where the styles,
colors, materials, but especially values, are in harmony.
Between 2007 and 2012
Maryse Leduc is a consultant for several developers in the Laurentians (Cap à l'Aigle, Faubourg Saint-Germain), in the Eastern Townships (Falaise sur le Lac, Boisé Baie Harvey, Vert Forêt) and in the Montérégie (Clos de la Montagne).
In 2012
The businessman Florent Fortier calls upon her services for
his residential development of Domaine Charlevoix, in Baie-Saint-Paul and Les Éboulements. She designs the gate,
the model homes, as well as the development of a high-end private domain: Les sommets de Baie-Saint-Paul, offering shared ownership tourist residences.
In 2014
Maryse Leduc participates in the development and design of a large-scale project with Quebec City developer Christian Collignon:
An ecological spa, aqua play space, hotel, water pavilion.
This project set out to create a LEED-certified green building complex – by a team of pioneers in the field of ecology and sustainable development – that would become a true inspiring and educational laboratory-museum-park, accessible to both the general public and a targeted clientele. The project will act as an example to the local and international community, positioning Quebec as a leader in sustainable and ecological water treatment as well as in green and hyper-efficient buildings. This project was selected as a finalist for the development of the former Quebec City Zoo site.